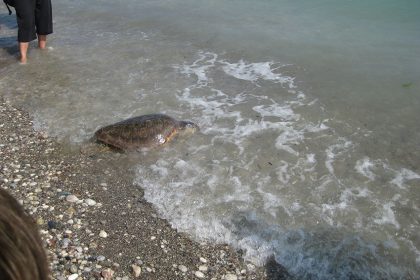 «Hydrobiological Station of Rhodes» (H.S.R.) operates as an Aquarium-Museum and a research unit of the Hellenic Centre for Marine Research (H.C.M.R.). In its premises the research for the conservation of the environment is combined with educational activities for the benefit of scientific knowledge and its dissemination to the public.
Since the 80's H.S.R. is intensively focused to the rescue and protection of marine endangered species (included in the International Convention CITES, IUCN, EU) such as sea turtles, whales and the Mediterranean seal.
On December 2014 an alive female sea turtle Caretta caretta was trapped at the seaside village Plimmiri in Rhodes island and was transported from citizens to the H.S.R.  There she was taken care by the scientific personnel of H.S.R. in collaboration with the Sea Turtle Protection Society of Greece 'Archelon' and with a veterinary specialized  to the rescue and care of sea turtles.  On June 2015 the turtle – named «Cleopatra» –  after six months of recovery was released to her natural environment.
Moreover, about a year ago another turtle Caretta caretta –named «Laura»-was released after nine months of care at the H.S.R.
The growing public awareness has resulted in an increase of reports of similar events to the Port authorities or to the H.S.R.